4-6th Grade Math Night tonight! 5pm: Grade Level Math Games 5:45pm: Tacos! 6:30pm: Music Concert 4-12th Grade
Joseph Eagles Wrestling Schedule 23-24
Joseph Football - All League Awards 2023 1st Team Defense All League NG Gavin Russell LB Jaxon Grover DE Zander Walker CB Dylan Rogers 2nd Team Defense DE Kellen Crenshaw LB Payton Hess 1st Team Offense All League QB Kane Johnson WR/TE Jaxon Grover RB Jesse Larison C Kellen Crenshaw 2nd Team Offense RB Gavin Russell TE/WR Payton Hess Honorable Mention DB Jayden McNall QB Zander Walker Player of the Year Jaxon Grover Coach of the Year Damian Huff
MATH NIGHT this Wednesday! 4th-6th Grade
4th-12th Grade Christmas Concert December 6th @ 6:30 pm JCS Gym
K-3 Christmas Concert December 13th @ 6:30 pm JCS Gym
Joseph Wrestling is off to a strong start! Jayden McNall - 1st Place Dylan Rogers - 1st Place Austin Schultz - 3rd Place GO EAGLES!
Home Games December 5th Joseph vs. Enterprise
Football Awards Dinner will be held Monday, December 4th at 6pm
Mr. Fulfer Clubs Update: Monday- Kindness Club Tuesday- Book Club Wednesday- Debate Club Thursday- Starting on Dec. 7th Strategy Club (No clubs this Thursday)
CHAMPIONSHIP GAME 11/25 2PM IN HERMISTON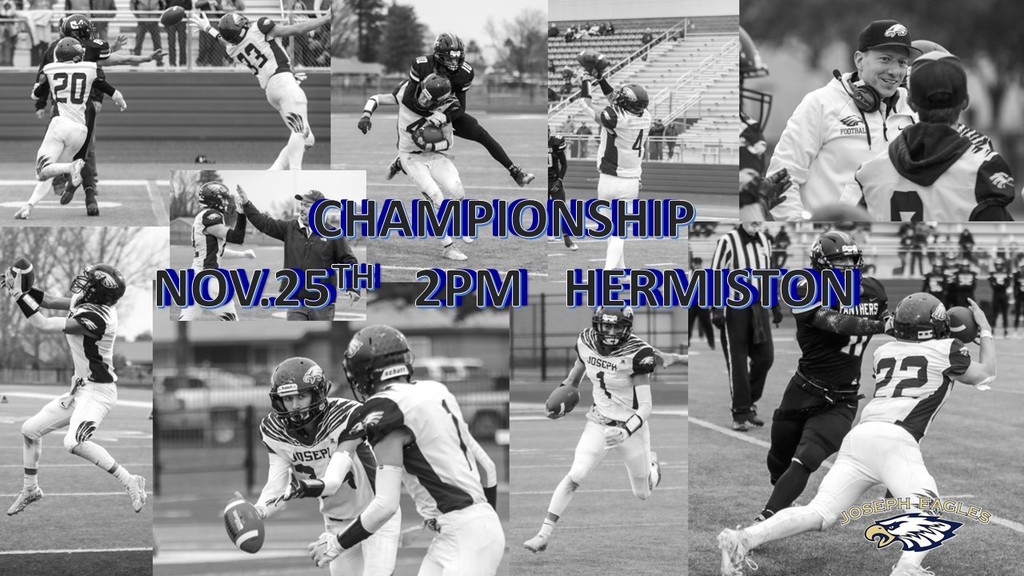 11/20 & 11/21 No Art after school.
11/20 & 11/21 No Art after school.
Joseph Basketball Gear!
JOSEPH FOOTBALL SEND OFF AT NOON TODAY! GO EAGLES!
See you today for the annual Harvest Feast! Thank you to our amazing kitchen staff and our fearless leader Christine! They have been busy in the kitchen all week! Head Cook: Christine Eaves Assistant Cook: Brandi Schultz Kitchen: Hailee Musia A special thank you to Shelley Marshall, April & Jake Strickland for all the additional help to make today a wonderful feast!
Reminder: Friday School Day November 17th
Football Playoff Game today @ 7pm at Home. Wear Blue!
JUNIOR HIGH BASKETBALL HOME GAME
These Joseph Eagle Pura Vida bracelets will be available for purchase at the State Football Playoff game this Friday (11/10) The drama class is selling them for $10 each. Please contact Michelle Homan if you are interested.